What's In My Carry On | Travel Tips + Essentials!
A Carry-on Is All You Need
Never Overpack Again
"It's so liberating, it's…it's like going commando!" This is what my friend Liz whispered to me as we breezed past jet-lagged travelers crowded around the baggage arrival carousel at Heathrow. We had a week in London, and nothing but two 20-inch carry-on roller bags between us. Until we traveled together, Liz never went anywhere without cumbersome, overstuffed suitcases. She was a "what-if" packer: What if it rains? What if it gets too hot/too cold? What if we get invited to have tea with the Queen?
With a few savvy packing hacks, however, Liz discovered the joys of carry-on-only travel. Try some of these tips, and you may also be able to spend weeks (even months!) living stylishly out of a small bag and avoiding onerous baggage fees in the process.
One caveat: Packing smart doesn't necessarily mean compressing the contents of a full suitcase into a single carry-on. Not only do many airlines have weight restrictions for carry-on luggage (which can be anywhere between 15 and 25 pounds, so check with your airline), flight attendants may be prohibited from assisting you with getting your bag into the overhead compartment due to liability reasons. Make sure that you (or your travel partner) can lift your bag over your head before you head out to the airport.
Tip #1: Layers Are Your Friend
The clothes you pack will always be ultimately determined by where you're going (see our destination-specific tips here), but unless you're headed to the Arctic circle, the right mix of lightweight wrinkle-proof layers in travel-friendly fabrics like knits and synthetics/synthetic blends should keep you covered. I especially like the Airism and Heattech lines from Uniqlo: they're inexpensive, comfortable base layers for a variety of climates.
There's also no reason to ever look like a schlub, even if you're packing light. Just keep your color palette reasonably restricted and brighten things up with lightweight scarves, like a cheery cotton one for day and a more sophisticated silk one for night. Roll up items individually and compress in Ziplocs or packing bags.
My rule of thumb is to never pack more than a few interchangeable basics. Think: a nice pair of pants, a long-sleeve shirt, a sleeveless maxi dress, t-shirt, a few pairs of socks and underwear, and a pair of pretty ballet flats. The key is to wear bulkier items on the plane: this is when I don my black jeans and my daytime walking shoes, a shirt with a cardigan, and a pashmina shawl that doubles as an in-flight blanket.
From this combo, I have a few daytime touring outfits (jeans or nicer pants with top or t-shirt/cami and cardigan) as well as sharper things for evening (maxi dress with silk scarf, cardigan or pashmina, nicer pants with top or cami and cardigan).
Caveat:Foldable ballet flats take up very little space for travel but don't have enough support for hours of walking. Pack them, but use them for relaxing indoors.
Pro tip:Always travel with a lightweight jacket with plenty of zippered pockets, even if you think you won't need it. It doesn't count toward your baggage allowance, and it's a great place to stash the last-minute items that simply won't fit elsewhere, like an iPod, sunglasses, camera, makeup, medications, travel umbrella, etc. It's an investment that will also come in handy at home.
Tip #2: You're Traveling, But You're Still in Civilization
When we plan our exotic (or not-so exotic) getaways, we tend to forget that people at our destination also wear clothes and brush their teeth—so why bulk up your bags with items you can buy (and cheaply) when you land? Not only will most hotels have soap, shampoo and conditioner (which also works well for shaving), but picking up basics (sunscreen, deodorant, hair products) and unexpected necessities (aspirin, bug spray) where the locals shop may lead you to fun local discoveries, like chamomile toothpaste.
Caveat:While pads are available pretty much everywhere, I learned the hard way that tampons are not necessarily a universal product (especially in parts of the Middle East and Asia). If you need to pack them, just take them out of the space-hogging box and stash them around you bag.
Pro tip:Buy the cheesy tourist shirt you secretly love ("I Got Lei'd In Hawaii!") the day you arrive, and buy it over-sized. You'd probably never wear it sightseeing, but it's perfect to sleep in and a fun reminder of your trip.
Tip #3: Minimize Your Beauty Routine
You wouldn't pack a month's worth of underwear for a week-long trip, so why bring along a month's worth of the toiletries you can do without? We're already restricted by the TSA in what can go in a carry-on, so if there's something you absolutely can't do without (or can't buy at your destination), decant it or swap it for out something else. I'm usually a product queen at home, but here's what I can easily fit into my favorite travel container set with room to spare:
With a tinted lip balm, small eyeshadow duo, blush, liner, mascara and powder in a small makeup bag, I manage to get away with looking pretty presentable for living out of a carry-on.
Caveat:Be careful if you're using silicone travel containers—many products cannot be stored in them, including anything containing alcohol (like makeup removers), hair products, acne treatments, hydrogen peroxide, etc.
Pro tip:If you wear contacts, consider bringing daily-use lenses on your trip. This removes the need to carry rinsing solution, and strips of lenses sealed in plastic bags can be easily tucked into various spots in your bag.
Tip #4: Reuse, Recycle
Speaking of a month's worth of undies: if you're in it for a long-haul trip, invest in some quick-drying basics to reduce your clothing load. I never travel with more than two pairs of these amazing and socks that dry within hours and keep me comfy on the road. While I'm wearing one set, the other pair gets washed in the sink, hung over the towel rack and is ready to go the next day.
In fact, if most of your travel wardrobe consists of lightweight layers, take advantage of the wealth of clean towels afforded to you in most hotels and learn to love a bit of hand washing: soak clothes in the sink or tub with shampoo, rinse, roll between towels and hang dry. Blast with the hotel hairdryer if there's still a bit of dampness.
Caveat:Hand-washing sweaty gear only goes so far—if you're travelling for more than a week, you'll want to eventually hit the local Laundromat or splurge on laundry service.
Pro tip:Invest in a travel sink stopper—they're inexpensive, take up little room and last for ages. For smaller items, throw them in a large Ziploc with soap and water, seal, squish, rest and rinse.
Tip #5: Go Digital When You Can
Vacation reads of any kind—from guidebooks to beach-read bodice-rippers—can be space hogs in the traditional sense, but with dedicated e-readers or e-book apps, you can bring a whole library along in a little space. Take the time to download guided tours, maps and your reading list before you go.
Remember that your mobile phone can be an incredibly useful tool overseas, even if you want to avoid outrageous international roaming charges. Simply switch the phone to Airplane mode, then turn WiFi back on (WiFi is shut off by default when you enter Airplane mode). Now you can have an alarm clock, camera, maps, flashlight, and in many circumstances working GPS.
Check to see if the devices you're bringing along are dual voltage (most mobile phones, tablets and notebooks are). This means you'll only need to pack a small plug adapter for charging your equipment, instead of a cumbersome converter or transformer. You can find the plug adapters you'll need here.
Caveat:While it's always a smart idea to have copies of important information like credit card numbers available while you travel (in case your wallet is lost or stolen), avoid the temptation of emailing complete details to yourself for safekeeping, especially if you'll be checking your email over unsecured public WiFi or in an internet café. I keep a piece of paper stashed somewhere in my luggage with emergency contact numbers and half of each credit card number written down, then keep the final four digits of the cards listed in an otherwise incomprehensible email to myself.
Pro tip:Pack a portable battery charger in your day bag. This will ensure that your device always has the juice it needs while you're out sightseeing and away from your hotel.
Tip #6: Make the Most of Your "Personal Item"
Wonder how you're going to cram everything into that carry-on? Don't forget that most airlines offer you a bit of saving grace: the "personal item" you're allowed to bring on in addition to the carry-on. This usually means a purse or laptop bag, but don't waste this valuable additional packing space on the handbag you'll be using on your trip. Carry a larger tote bag that you can stash a lay-flat travel day bag (and an evening clutch) in, as well as any overflow from your larger carry-on. I've used this amazing bag as my "personal item" along with my rolling carry-on, and it always manages to fit neatly under the seat in front of me.
Caveat:Different airlines may have different restrictions on your "personal item," including exact dimensions that may be strictly enforced. Check with your airline(s) before stuffing that second bag to the gills.
Pro tip:Throw in a packable duffel bag for all of the fabulous souvenirs you'll be picking up on your trip.
Video: My Airplane Carry-On Essentials! ✈
A Carry-on Is All You Need images
2019 year - A Carry-on Is All You Need pictures
A Carry-on Is All You Need advise photo
A Carry-on Is All You Need picture
A Carry-on Is All You Need new pics
pictures A Carry-on Is All You Need
Watch A Carry-on Is All You Need video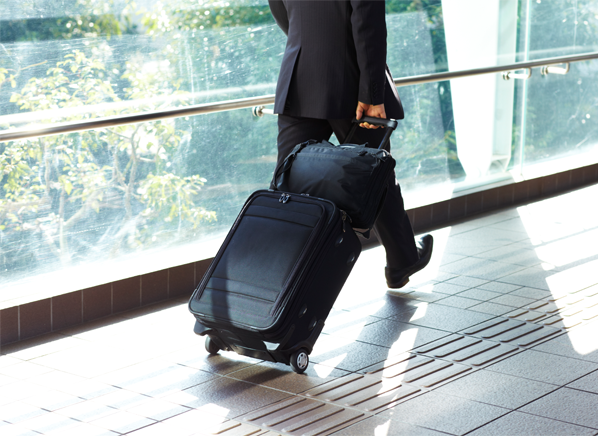 Forum on this topic: A Carry-on Is All You Need, a-carry-on-is-all-you-need/ , a-carry-on-is-all-you-need/
Related News
Trump lost big in the 80s when the NFL beat his pro football league
51 Best Short and Long Pixie Cuts We Love for 2019
How to Trick Your Friends
Something tells us this is not the last time we see Zagitova and Medvedeva do battle
7 Yoga Moves That Will Improve Your SexLife
5 Ways to meet a very big goal
How to Apply Makeup (for Teen Girls)
Benefits of Coffee: A Cup a Day May Keep The DoctorAway
I Suffered From An Invisible Disease While I Was Winning Grammys With TLC
How to Make Frybread for Indian Tacos
Date: 10.12.2018, 10:39 / Views: 63531
---