Lobster Tails 101
How to Prepare Lobster Tails
Four Parts:
If you don't want to buy and prepare an entire lobster for your fancy seafood feast, consider lobster tails for your dinner table. Many seafood markets and grocery stores sell lobster tails at a lower price than what you'd pay for a full lobster. Most lobster tails come from spiny lobsters, rather than Maine lobsters, and spiny lobsters have meatier tails. Decide whether you'd like to boil or broil your lobster tail and then enjoy your tasty dinner.
Ingredients
Servings: 1
1 eight-ounce lobster tail per person

3 tbsp of sea salt

6 cups of water

Several sticks of butter (used for making clarified butter)

Seasonings such as table salt, white pepper, lemon juice and paprika
Steps
Prepping to Make Lobster Tails
Clean your hands and work station.Wash your hands before preparing your lobster tail. This is generally a good idea when working with any food. Your hands come into contact with thousands of bacteria over the course of the day. Lather up with some anti-bacterial soap. Wipe down your counter-tops and cooking tools, too.

Get the lobster tails.

Depending on the menu for your lobster dinner, you will want to buy enough lobster tails to feed those attending your party. An eight-ounce lobster tail is normally enough for a single adult.

Lobster tails can easily be purchased at most supermarkets, seafood markets and online.Be sure to check the tails' expiration date. Don't purchase a lobster tail past the expiration date.
In general, cold-water lobster tails are better to work with than warm-water lobster tails. Industry experts find that warm-water tails tend to not cook as well, remaining mushy at their center rather than tender. Cold-water lobster tails are normally around more than warm-water tails.

Wash your lobster tail in hot water.As with any food preparation, you want to clean the tail thoroughly. Remove any grime from the outside of the lobster tail's outer shell.

Cut down the center of the shell.Take a pair of kitchen scissors (properly cleaned) and cut from the center of one end of the tail to the other. Make sure that you cut only the outer exoskeleton of the lobster tail, not the meat inside.

Spread the shell apart with your hands.

This part of the process can be messy, so have a rag on hand if you need to clean up any leaking liquids.

Be on the look out for gray, yellow or otherwise discolored meat. These colors can result from a variety of factors, such as improper freezing, general bruising or the lobster's diet before it was brought to market. If you can remove the discolored region, the lobster tail should still be fine to eat.
Boiling Lobster Tails
Bring six cups of salted water to a boil.Use a pot that can hold three quarts of water to allow for the lobsters. Make sure that the water is thoroughly boiling.

Add the lobster tail to the boiling water.Simmer, uncovered for eight to 12 minutes. You know that it is nearly ready when the shell of the lobster turns bright red. The exposed meat will more tender as well. It may even start to separate from the lobster's outer shell.

Drain the water.Remove and let cool for 10 minutes. The lobster tail will be very hot after removing it from the boiling water. Let the lobster tail cool on a plate or a napkin for 10 minutes.

Cut away more of the shell, if needed.Sometimes, the outer shell contracts after you remove the tail from the boiling water. Take your scissors and cut more shell off to make eating the tail easier.
Broiling Lobster Tails
Preheat the broiler.If you decide that you'd rather broil than boil your lobster, start by turning on your broiler and letting it warm up for about five to 10 minutes.

Season your lobster tail.Mix 1 tsp of salt, 1 tsp of pepper, 1/2 tsp of paprika and 1 tsp of lemon juice together and rub on the exposed lobster meat generously. While broiling, these seasonings will seep deep into the lobster and add excellent flavor.

Place the lobster tail on a baking sheet in your broiler.You can cover the baking sheet in tin foil, if you would like. The foil will reduce the need to clean the pan.

Broil for five to 10 minutes.Broil until the lobster meat becomes opaque and the outer tail turns a light shade of brown.

Remove from the broiler.Let your lobster tail cool for five to 10 minutes after you remove it from the oven.
Enjoying Lobster Tails
Place your lobster tail shell side down on a plate.This will leave the tail meat exposed at the top and will be easier to eat.

Butterfly your lobster tail.Many restaurants often completely cut the lobster tail in half and place the halves side by side. Restaurants often choose this presentation to make it seem like you are getting more lobster. It is called "butterflying" because the two halves roughly resemble the symmetry of a butterfly.

Have a fork and knife ready.You may need these tools to cut up the meat or to break open the lobster tail's outer shell. Some people like to eat lobster tail with their hands. In this case, obviously, no fork or knife is needed.

Serve with clarified butter.

Melt several sticks of butter into a saucepan. The clearer liquid that rises to the top is the clarified butter. Slowly drain off the clarified butter into a small bowl that your guests can use to dip lobster pieces in.

You can also buy pre-clarified butter at the store, which will last roughly a month in your refrigerator.

Pair with a nice white wine.Lobster is a light meat, so you should choose a wine that does not have a powerful flavor. The robust flavor and tannins in red wine won't pair well with the iodine and saltiness of the lobster.

As an alternative, serve your lobster tails with a side of steak.Many consider surf-and-turf (lobster-and-steak) to be a perfect pairing.
Community Q&A
Question

How do I thaw the frozen lobster tail?

wikiHow Contributor

Community Answer

Thaw the lobster tail in the refrigerator for up to 24 hours. Once frozen and thawed, do not refreeze.
Ask a Question
200 characters left
Include your email address to get a message when this question is answered.
Video: Grilled Lobster Tail Recipe with Garlic Butter (2018)
How to Prepare Lobster Tails images
2019 year - How to Prepare Lobster Tails pictures
How to Prepare Lobster Tails forecasting photo
How to Prepare Lobster Tails images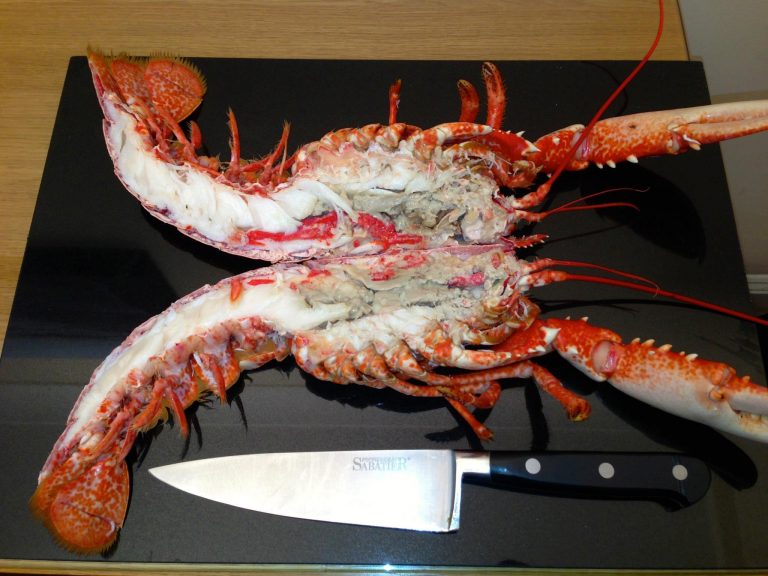 How to Prepare Lobster Tails new pics
pics How to Prepare Lobster Tails
Watch How to Prepare Lobster Tails video
Forum on this topic: How to Prepare Lobster Tails, how-to-prepare-lobster-tails/ , how-to-prepare-lobster-tails/
Related News
How to Get Rid of Period Cramps: 8 Yoga Moves From Jessamyn Stanley
Overeating May Double Risk of Memory Loss
Is Your Weight Out Of Control
How To Get Shot For Street Style – Altamira's Craig Arend TellsAll
Lotrel
How to Wire a 220 Outlet
The 5 Best Deadlift Variations
Barefoot Running Shoes
Lindsay Ellingson
Sugar Scrub Ingrown Hair Home Treatment
5 Totally Normal Reasons Why Your Breasts Feel Lumpy
This trick worked for me with Adobe Photoshop CS5 running on my 15-inch MacBook Pro, but your results may vary depending on the app that isnt working. Good luck
Date: 12.12.2018, 15:13 / Views: 33481
---